We use the best ingredients to bake the best treats
The Sugar Fairy bakes with unsalted butter, fresh fruits, pure Madagascar Vanilla, premium Chocolates… you get the idea. Our sweets are always fresh and always yummy!
Cupcakes
Our cupcakes are made with real ingredients and are finished with our homemade buttercream and chocolate fudge icings!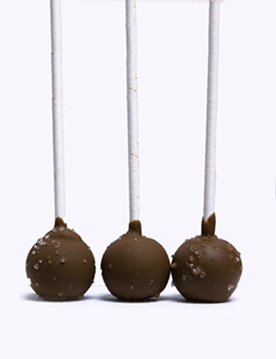 Lollys
Once upon a time dessert was served on a plate… Get with the now! Try our "Lollys", sweet little desserts on a stick. Clean hands, clean plates…big smiles!
Custom Cakes
We want your cake to reflect your unique style and personality. We can design your cake based upon invitations or theme of your event.
California-born April Simpson has cooked and baked around the country in notable places such as Rover's in Seattle, The Broadmoor in Colorado Springs, The Fairmont Hotel in Chicago and the Duquesne Club in Pittsburgh. She's taught Pastry Arts at the Pennsylvania Culinary Institute, and now she runs her own business: Vanilla Pastry Studio.
The shop is stocked with creative cakes, cookies, brownies and scones. Her signature confections are soft-centered "Lollys" – desserts on a stick – offering such enticing flavors as salted caramel custard, white chocolate raspberry and key lime pie. She also works with caterers to custom design wedding and special event cakes.
Vanilla/Vanilla
Vanilla/Caramel
Lemon
Raspberry Cream
Strawberry Shortcake
Coconut
Key Lime
Mango-Passionfruit
Grapefruit
Vanilla/Chocolate
Vanilla/Dulce de Leche
PB & J
Chocolate/Chocolate
Chocolate/Fudge
Chocolate/Espresso
Chocolate/Peanut Butter
Chocolate/Peppermint
Chocolate/Caramel
Chocolate/Raspberry
Chocolate/Vanilla
Cookies n' Cream
And many more!
Wedding & Custom Cakes
Vanilla Pastry Studio wants your cake to reflect your unique style and personality. We have several designs to spark your imagination and we welcome photos and pictures from magazines and Pinterest. We can also custom design your cake based upon invitations, linens, or the theme of the event.
Address
6014 Centre Avenue
Pittsburgh, PA 15206
(East Liberty)
Hours
Thursday: 11am – 6pm
Friday: 11am – 6pm
Saturday: 10am – 4pm